Communists today attended a demonstration at the City Hall in Belfast, protesting rising costs of
living, thefts of workers' wages and the continued failure of the Stormont executive. A range of
activists, community groups and workers came together to raise their voices and make their
demands heard; Enough is enough.

Representatives from trade unions, community groups, and other organisations spoke at the event,
including Siobhan Harding of the Women's Support Network who told UTV News of the dire
situations that young mothers now find themselves in. Capitalism's crisis is not on its way – it is
already with us, and people are suffering as a result.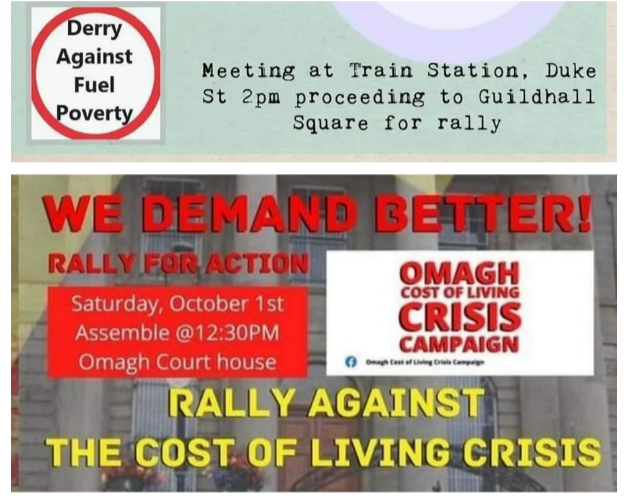 Elsewhere across Ireland and the UK, similar demonstrations were taking place, with thousands
taking to the streets in Dublin on Saturday the 24th of September as part of the Cost of Living Coalition, and today across Britain as part of the Enough is Enough campaign supported by trade unions such as CWU and RMT. Some calculations estimate that more than 15,000 people attended
the march last week in Dublin.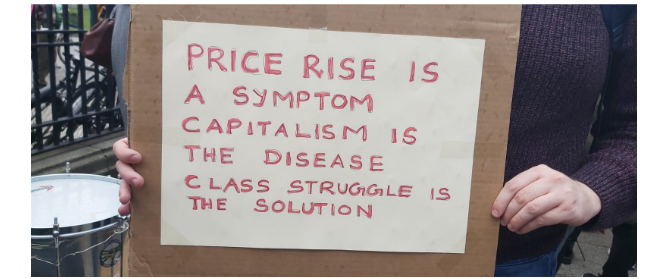 Today in Derry, the people gathered at Waterside Train Station to protest the cost of living and make
demands on the absent Stormont government. The protest, organised by Derry Against Fuel Poverty
and supported by Derry Cost of Living Crisis Campaign, was attended by various speakers and
members of the public. Omagh Cost of Living Crisis Campaign also held a rally for action at the
Omagh Court house. Eamonn McCann spoke at the event, stating "everything good that has ever been achieved here has come from below."
On Sunday the 2 nd of October, activists from Lasair Dhearg and the Conolly Youth Movement are
gathering at the International Peace Wall on the Falls Road in Belfast to protest the cost of living.
Levels of attendance at the events in Belfast will no doubt be hampered by the spreading of a cost-
of-living protest across two consecutive days by two separate groups of organisations in the same
city, as well as the clashing of Saturday's protests with a high profile "Ireland's Future" panel held in
Dublin and attended by Sinn Féin on the same day.
Nonetheless, the event at City Hall today in Belfast was lively and there was a clear appetite among
the people there for class-oriented and class-conscious solutions. Progressive forces in the six
counties should work together to create an organised, long-term campaign that is unified in its
tactics if not in its beliefs and ideologies.