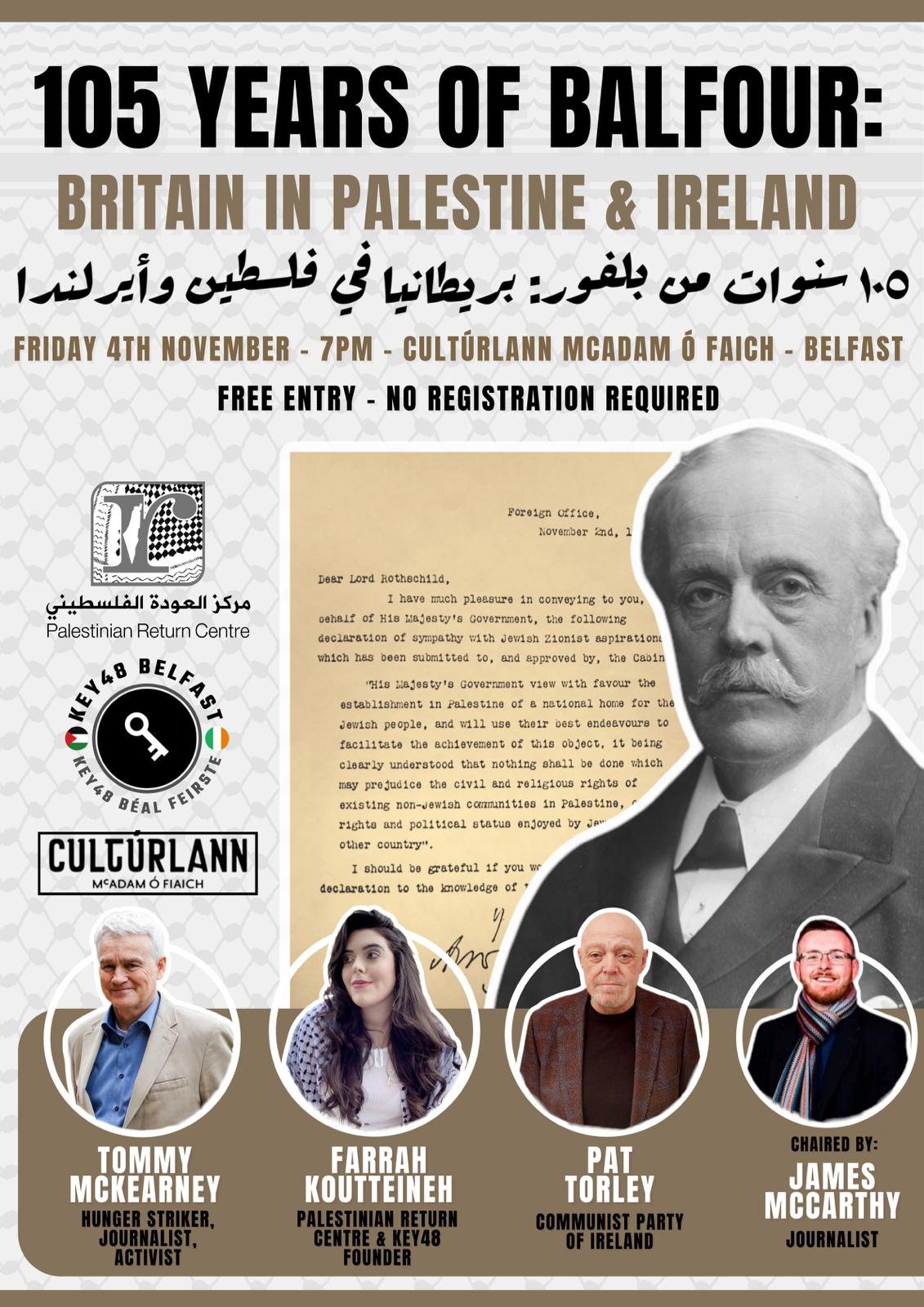 '105 Years of Balfour: Britain in Palestine & Ireland'
The Palestinian Return Centre welcomes you to attend our upcoming event entitled '105 Years of Balfour: Britain in Palestine & Ireland'. This panel discussion will be commemorating the 105th anniversary of the Balfour Declaration, a declaration that had catastrophic impacts on the people of Palestine and also Lord Arthur Balfour who's policies had detrimental implications on the people of Ireland. We will be holding an event in Belfast, in the North of Ireland, which will delve into great depth of both people's dealings with British imperialism.
Speakers:
Tommy McKearney: Is a former Irish political prisoner, hunger striker spending 53 days on hunger strike, and today is an active trade unionist, author and activist.
Farrah Koutteineh: Is head of Public Relations at the London-based Palestinian Return Centre, and who is also the founder of KEY48 – a voluntary collective calling for the immediate right of return of over 7.2 million Palestinian refugees. Koutteineh is also a political activist focusing on intersectional activism including, the Decolonise Palestine movement, indigenous people's rights, anti-establishment movement, women's rights and climate justice. She has written extensively on the fundamental role of Palestinian women in the first and second Intifada and Israel's treatment of female Palestinian political prisoners.
Pat Torley: Is currently the Vice Chairman of the Belfast branch of the Communist Party of Ireland, after spending several years organising in Trade Unions, he has sat on the Irish regional committee and chaired the Belfast Workers District Committee for NI Water.
No registration is needed – All attendees welcome.