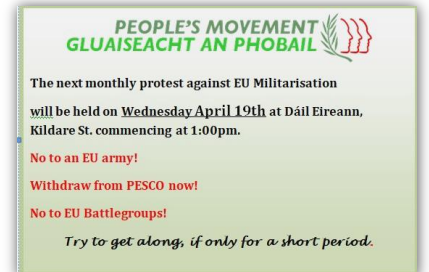 No to Militarisation and and EU Army
The Next Monthly protest against the EU Militarisation will be at Leinster House on Wednesday 19th April at 1pm .Please come along and lend your support.
It is clear that now, the last vestiges of neutrality are under threat. The government, fearing the outcome of the promised Citizen's Assembly, has opted for forums with carefully chosen 'experts' who will undoubtedly supply a report that will accord with the government's wishes.
The focus is on the threats to Ireland's security but you can bet that the continued use of Shannon Airport by US forces or our accelerated integration into EU/NATO military arrangements will not be perceived as threats to our security. It really is a set-up!

We say no to NATO membership; withdraw from PESCO and EU Battlegroups; abandon NATO's Partnership for Peace and develop a policy of active neutrality, Please join us on Wednesday next.