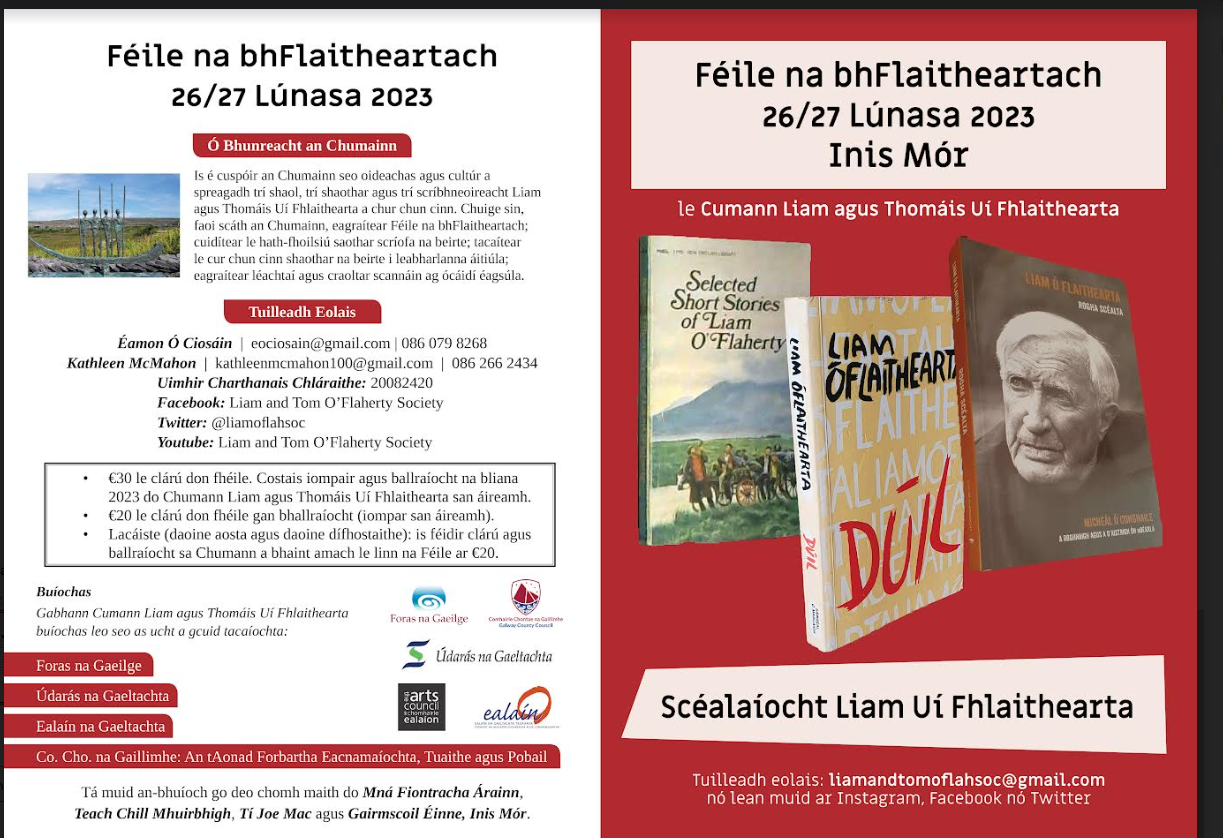 PRESS RELEASE | PREAS RÁITEAS
(Leagan Gaeilge le fáil thíos)
9 August 2023 | 9 Lúnasa 2023
The bilingual Féile na bhFlaitheartach 2023, Inis Mór, Aran, 26/27 August.

"Féile na bhFlaitheartach celebrates the story-telling of Liam O'Flaherty"
With special stone-lifting event in O'Flaherty's native village.
The Liam & Tom O'Flaherty Society is celebrating its eleventh bilingual summer festival, Féile na bhFlaitheartach, on Inis Mór on the last weekend in August, with two days of events.

This year's Féile will focus on the short stories of Liam O'Flaherty as well as the lives of other important historical figures with deep roots in the Aran Islands.
One event, the enactment of a stone lift as described in O'Flaherty's story 'The Stone' or 'Cloch Nirt', has already attracted international attention. It will take place on a pathway between the village of Gort na gCapall and Port Bhéal an Dúin at the coast, the site of a lifting-stone called 'An Mullán'. With Seosamh Ó Cuaig as host, this event features readings of O'Flaherty's short story in Irish and English by local young people Eimear Donohue and Luke Ó Floinn. This will be followed by a lift of the legendary stone, a 173 kg granite boulder, demonstrated by David Keohan. Dr Conor Heffernan, lecturer in Social Sciences of Sport at Ulster University, will then speak on the ancient tradition of stone-lifting.
The Féile starts with thebilingual keynote lecture "Translating Liam O'Flaherty's short stories | Ag Aistriú Gearrscéalta le Liam Ó Flaithearta" by writer, translator and publisher Mícheál Ó Conghaile. Mícheál is superbly qualified to speak about his translations into Irish of O'Flaherty's short stories (2020). A native of Inis Treabhair, Conamara, a small island sitting between the tip of the Ros Muc peninsula and the island of Leitir Móir, he has published in many literary genres. Thesuccessful publishing companyCló Iar-Chonnacht (CIC) which Mícheál established almost 40 years ago, has achieved international recognition. Mícheál's fascinating personal journey translating into Irish a selection of Liam O'Flaherty's English-language short stories, the work involved in such a task, as well as insights into the stories gained from this, will form the backbone of his lecture.

After the stone-lifting event, physical endeavour will continue as a theme in the eveningshowing, at 8.30pm in the secondary school Gairmscoil Éinne, Cill Rónáin, of the Cinegael film 'An Chéad Laoch', about the writer and first ever Olympic champion in 1896, James Brendan Connolly from Boston, of Inis Mór parentage. Connolly was more than an athlete, however. A gifted writer of the sea and journalist, his career and restless character resembles the O'Flaherty brothers. Following the film, Féile attendees are invited to nearby Tí Joe Mac in Cill Rónáin for a session of music and songs.

The Féile's traditional Sunday noon event (12.30 pm) in Tí Joe Mac, Cill Rónáin will be addressed by historian and journalist Aindrias Ó Cathasaigh who has published extensively on early 20th century Irish history and politics as well as producing translations into the Irish language of works by authors such as Bertolt Brecht, Friedrich Engels and Karl Marx. Ó Cathasaigh will deliver a bilingual lecture about Mícheál Ó Maoláin, a trade unionist and Larkinite from the Aran Islands, based on his recent biographical study 'Triúr ar Chlé' (2022).

Féile na bhFlaitheartach will be opened on Saturday 26 August at 12.15 pm in Kilmurvey House. It is an inclusive festival and all are welcome to join us in this unique celebration of the lives, times and work of the two great sons of Inis Mór, Liam and Tom O'Flaherty.
Cumann na bhFlaitheartach, the O'Flaherty Society, would like to thank our loyal sponsors who contribute financially to the running of the Féile and without whom it would be very difficult to organise this programme of events. They are Galway County Council, Údarás na Gaeltachta, Foras na Gaeilge, Ealaín na Gaeltachta and the Arts Council.

For further information: Éamon Ó Ciosáin, eociosain@gmail.com, 086 079 8268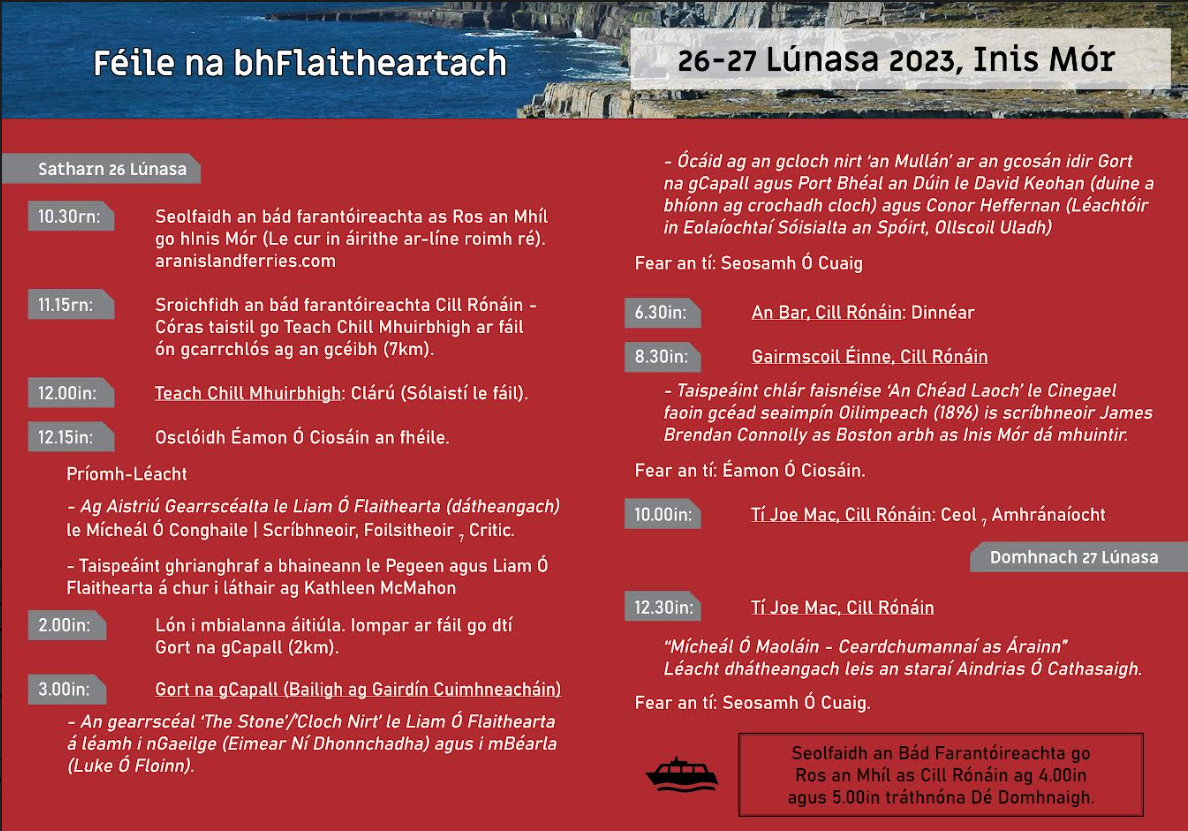 LEAGAN GAEILGE
Féile dhátheangach na bhFlaitheartach 2023, Inis Mór, Árainn, 26/27 Lúnasa
"Déanann Féile na bhFlaitheartach ceiliúradh ar scéalaíocht Liam Uí Fhlaithearta"
Ócáid speisialta faoi chrochadh clocha i mbaile dúchais na bhFlaitheartach.

Tá Cumann Liam agus Thomáis Uí Fhlaithearta ag reáchtáil an aonú féile shamhraidh déag dá gcuid ar Inis Mór, Féile na bhFlaitheartach, ar an deireadh seachtaine deiridh i mí Lúnasa thar dhá lá.
Díreoidh féile na bliana ar ghearrscéalta Liam Uí Fhlaithearta chomh maith le daoine mór le rá eile sa stair de bhunadh Árann.
Tá imeacht amháin faoi chrochadh clocha, mar a chuirtear síos air i scéal Liam Uí Fhlaithearta 'The Stone' nó 'Cloch Nirt', tar éis aird idirnáisiúnta a tharraingt cheana féin. Is ar chosán idir Gort na gCapall agus Port Bhéal an Dúin ar an gcósta a bheas an ócáid seo ar siúl ag suíomh chloch nirt darb ainm 'An Mullán'. Is é Seosamh Ó Cuaig a bheidh ina chathaoirleach ar an ócáid seo mar a léifear gearrscéal Uí Fhlaithearta i nGaeilge agus i mBéarla ag daoine óga an cheantair Eimear Ní Dhonnchadha agus Luke Ó Floinn. Ina dhiaidh sin crochfaidh David Keohane an mullán – bollán eibhir 173kg – agus déanfaidh an Dr Conor Heffernan, léachtóir le hEolaíochtaí Sóisialta an Spóirt in Ollscoil Uladh, píosa cainte faoin traidisiún ársa a bhaineann le crochadh clocha.

Tá gearrscéalta Liam Uí Fhlaithearta i gcroílár imeachtaí na féile, ag tosú leis an bpríomhléacht "Translating Liam O'Flaherty's Short-stories | Ag Aistriú Gearrscéalta le Liam Ó Flaithearta" leis an scríbhneoir, an t-aistritheoir agus an foilsitheoir Mícheál Ó Conghaile. Tá Mícheál lán-cháilithe labhairt faoina chuid aistriúchán go Gaeilge de ghearrscéalta Uí Fhlaithearta (2020). Is as Inis Treabhair, Conamara ó dhúchas dó, oileán beag atá suite idir Ros Muc agus Leitir Móir, agus tá saothar foilsithe aige i seánraí liteartha go leor. Tá cáil idirnáisiúnta bainte amach ag Cló Iar-Chonnacht (CIC) an comhlacht foilsitheoireachta rathúil a bhunaigh sé 40 bliain ó shin, nach mór. Is é is ábhar don léacht seo, aistear spéisiúil Mhíchíl féin ag aistriú ó Bhéarla go Gaeilge rogha gearrscéalta le Liam Ó Flaithearta, an obair a bhaineann lena leithéid de cheird maille leis an léargas a thugann sé seo uilig dúinn ar na scéalta féin.
Leanfar le gaisce fisiciúil mar théama tráthnóna nuair a thaispeánfar an scannán 'An Chéad Laoch' (Cinegael a rinne) ag 8.30pm i nGairmscoil Éinne, Cill Rónáin. Baineann an clár faisnéise seo leis an scríbhneoir agus an chéad seaimpín Oilimpeach riamh i 1896, James Brendan Connolly as Boston ach gurbh as Inis Mór dá mhuintir. Ba scríbhneoir farraige agus iriseoir é Connolly freisin agus tá go leor cosúlachtaí idir é agus na Flaitheartaigh. Tar éis an scannáin, tugtar cuireadh do lucht freastail na Féile teacht chuig Tí Joe Mac in aice láimhe i gCill Rónáin le haghaidh seisiún ceoil agus amhránaíochta.
Labharfaidh an staraí agus iriseoir Aindrias Ó Cathasaigh ag ócáid thraidisiúnta meán lae na Féile ar an Domhnach (12.30 pm) i dTí Joe Mac, Cill Rónáin. Tá neart foilsithe ag Aindrias ar stair agus ar pholaitíocht na hÉireann agus na Gaeilge san 20ú hAois, chomh maith le haistriúcháin go Gaeilge de shaothair le húdair ar nós Bertolt Brecht, Friedrich Engels agus Karl Marx. Tabharfaidh Ó Cathasaigh léacht dhátheangach faoi Mhicheál Ó Maoláin, ceardchumannaí aitheanta as Árainn ag tarraingt ar an staidéar dírbheathaisnéiseach leis 'Triúr ar Chlé' (2022).

Osclófar Féile na bhFlaitheartach Dé Sathairn 26 Lúnasa ag 12.15pm i dTeach Chill Mhuirbhí. Tá sé oscailte do chách, agus tá fáilte roimh an uile dhuine a bheith inár dteannta don cheiliúradh seo ar shaol agus ar shaothar bheirt fhathach as Inis Mór, Liam agus Tomás Ó Flaithearta.
Is mian le Cumann na bhFlaithearta ár mbuíochas a ghlacadh leo sin a dhéanann urraíocht orainn. Murach iad, ní fhéadfaí an Fhéile a choinneáil ag imeacht. Is iad na hurraithe atá againn Comhairle Contae na Gaillimhe, Údarás na Gaeltachta, Foras na Gaeilge, Ealaín na Gaeltachta agus an Chomhairle Ealaíon.
Tuilleadh eolais: Éamon Ó Ciosáin, eociosain@gmail.com, 086 079 8268